My rare opportunity at the IWT Conference
The London IWT Conference 2018 was held from 11th-12th October 2018 in Battersea Evolution Centre, London. It was a privilege for me to be invited to such a high-profile event like this. I was a part of the Y4WC Youth Delegation, along with many high-profile delegates attending, including The Duke of Cambridge.
As a PhD student at Universiti Sains Malaysia (USM), it was a very rare opportunity to be chosen to speak at a conference as one of the international youth panellists. I've always related my study and research area of IWT in Malaysia with community empowerment as I believe that a bottom up approach is a much more effective method than a top down approach. Hence, for a youth member (working to end wildlife crime) to be recognized and to be heard by the Malaysian government, is a big deal. Throughout the London IWT Conference, Y4WC had generously provided me with a strong platform. By attending the conference, I was invited to meet with the Minister of Water, Land and Natural Resources of Malaysia. This meeting was very successful as I managed to personally brief the minister on my projects and how we (youth) are making differences through NGOs in Malaysia such as the Malaysian Primatological Society (MPS) and its outreach-Primate Watch Malaysia.
It's been an honour to witness global leaders' remarks first-hand. Up until the final day, more than 50 countries had signed the London 2018 declaration with the figure still increasing. This commitment made by the global leaders marked a new hope to end wildlife crime across the globe. Our very own Dr Xavier Jayakumar, Minister of KATS also pledged on behalf of the Malaysian Government to stop deforestation in Malaysia, which is very good news for biodiversity conservation.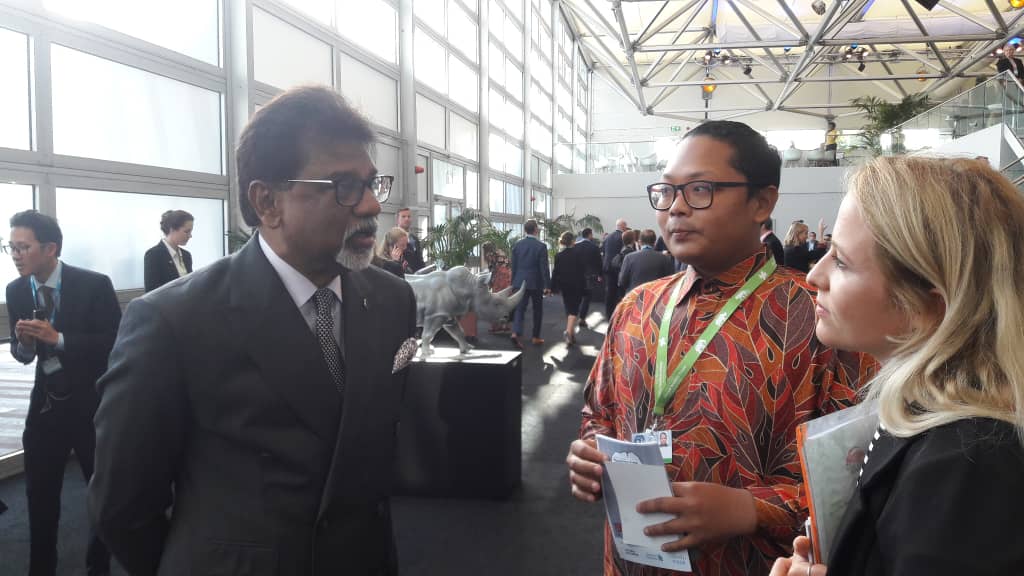 With the Malaysian Minister for Natural Resources.
E-commerce in IWT has been my study focus for quite some time. Therefore, I was elated that major e-commerce companies such as eBay, Microsoft, Alibaba, Facebook, Google and Rakuten came together to form a global coalition to combat online wildlife trafficking with the aim to reduce this by 80% by the year 2020. This great news was announced by Helen Clark, the former Prime Minister of New Zealand and Administrator of United Nation Development Program (UNDP) during the closing ceremony of the conference.
Attending this conference also improved my personal development. Thanks to the platform provided by Y4WC, I was invited to speak at several series of talks in Malaysia following the Conference. I was invited to speak at the Wildlife Conservation Forum organized by the Society for Conservation Biology (SCB). This forum will be in conjunction with the Kuala Lumpur Environmental Film Festival #KLEFF. Some local celebrities will be present during the event and I believe they could increase impact by utilising their popularity and influences. Besides that, I was also invited to speak at a forum for students organised by my university. The forum entitled "Breaking Four Walls Stigma: Opportunities and Challenges for Biology Students" invites me as the Y4WC International Youth Panelist to share the experiences, opportunities and challenges that I faced to the post-graduates students.
Y4WC is filled with young minds and optimistic people. In such an early stage (2 years since establishment), Y4WC has successfully connected to youth across the globe that share the same interest and goals. Y4WCs contribution in my study, personal development, international engagement and networking is paramount and has proven Y4WC as a powerful movement in bringing youth together and championing wildlife conservation agendas throughout the world. I am looking forward to more engagement with Youth for Wildlife Conservation and future IWT Congresses.
Zaki Zainol is a researcher and the Vice President of Malaysian Primatological Society